Introducing Rattlers Venom Academy!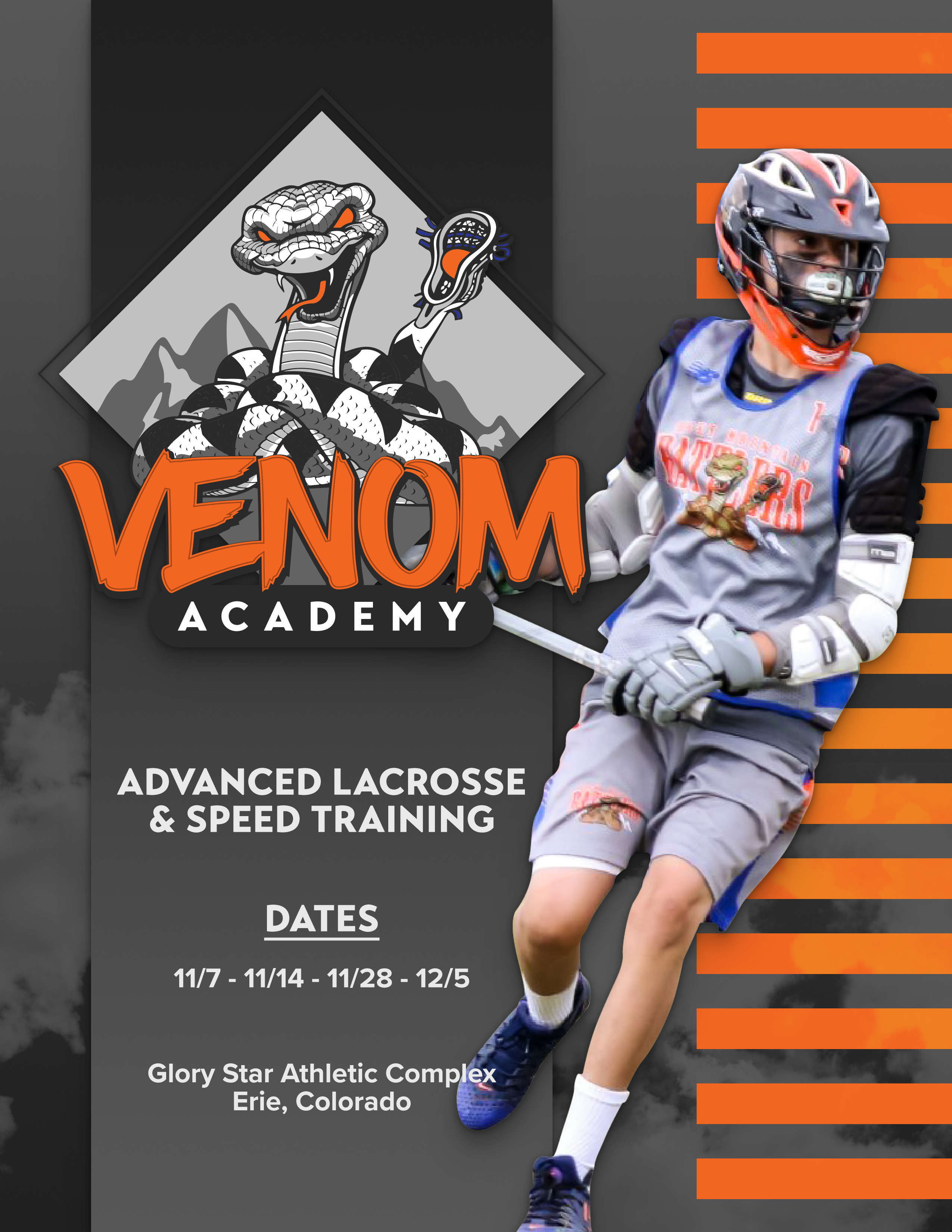 We are pleased to announce Rattlers Venom Academy. This new programming is designed to cater to our most committed and hardworking players and will be our most advanced programming to date. Venom Academy will include an hour of advanced skills, and an hour of speed and strength development. In addition to teaching a high level of lacrosse, the academy will also give players the building blocks for players to mechanize skills like confidence, focus, resilience, and leadership.
Boys & Girls Ages: 2030-2027 (5th-8th grade)
Positions:
Attack/Mid, Defense
Venom Directors:
Ethan LaHoda - Rattlers Director, Director of Team 91 Northside, and Head Coach at Mountain Range High School.
Joe Whitmore - Rattlers Director of Operations, Team 91 Northside Admin, Goalie Coach at Mountain Range High School
Venom academy will include the following:
Building the lacrosse player:
Advanced position training

Skill & IQ Development

Individual development plan and personalized workouts
Building the Athlete:
Physics Based Program For Developing Elite Level Strength, Power, Speed, And Explosiveness

General Physical Prep, Special Strengths; Max Strength Development, Speed Strength Development, Age Specific Focus

Mobility Training; Injury Resistance & Prevention Focus

Nutrition Guidance & Recovery
*We will be offering sessions for offensive, defensive players*
Building the person:
Breathwork, Mindfulness, Focus, and awareness

Habit formation and utilization

Resilience mechanisms and mental toughness training

Goal setting and action plans

Recruiting planning (HS)
Description:
-Spots are limited and fill up quickly
-4, 2 hour in person sessions (one hour of advanced lacrosse, one hour speed & strength)

-Prepares players for lacrosse, high school/college, and life!
Players are expected to be early, committed, and relentless in their pursuit to be great. We will not coach attitude or effort!
Dates: 11/7, 11/14, 11/28, 12/5
Time:
Boys Offense & All Girls
5:00pm-7:00pm

Defense
7:00pm-9:00pm
Location: Glory Star Athletic Center, 5466 County Rd 3 Erie, CO 80516
Price: $195